WWDC arrives with big news every year, and this time Apple's App Store is getting a major overhaul. Here the summary points from the App Store revamp, as relevant for App Store Optimization.
Source: Thomasbcn & Apple guidance.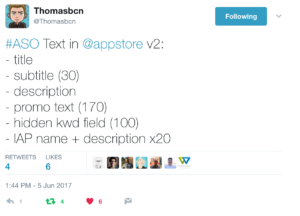 New Top Charts view, within Games, per Mike Schmid: 

Highlights
Apple will finally segment apps vs games via two new tabs.
App names/titles will now be limited to 30 characters (a far cry from the 255 less than one year ago).
App preview videos will now auto-play on mute when users visit your app's product page (not from search impression).
The full description will now be immutable between new app versions (only the promo text will be possible to change).
Apple will reportedly begin pulling category/developer name/IAP/new annotations (editorial stories/tips and tricks/collections) into the search user experience in some form/way. 
Developers and marketers get two new App Store elements called:

Subtitle, located below the app title and above the screenshots, with 30 characters of text. An app's subtitle will appear in the top charts.
Promo Text, located at the top of your description, with 170 characters of text.

Apple is asserting more influence over what apps people download by:


Creating daily stories for select apps.
Creating how-tos and tips and tricks or other educational content for select apps.
Creating a new apps and games tab to push featured apps.
Pushing featured apps into the games and apps tabs.
Pushing featured apps into the search results of the search tab.
Removing the trending searches section in favor of the more hand-curated, less algorithm-driven today tab.

By default, all of an app's ratings will show for users; and developers can choose if/when to reset their ratings, AKA ratings will now no longer reset after a new app version is published.
Apple appears to have done away with top charts as a separate navigation item and top grossing altogether and moved top charts into the apps or games tab. What this means for market intelligence tools.
Additions to an app's product page

App's top chart rank if applicable.
More videos (reportedly 3x more videos, to be precise).
App subtitle.
Larger, more condensed real estate for reviews.
Developer moved to below screenshots (below the fold).
App Store Editor's notes moved to below reviews (below the fold).
More prominent Facebook integration.
Icon + description for up to 20 In-App Purchases.
Icon hovers at the top of the screen as users scroll down.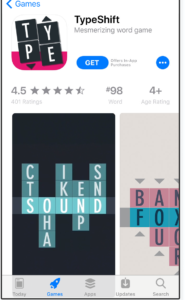 Questions for the Future:
Does the Subtitle rank for keyword searches? CONFIRMED, YES
Will the promo text look different than the rest of the full description?
Do the IAP descriptions rank for keyword searches?
Will an App's Promo Text rank for keyword searches?
Will the Promo Text be the copy that builds Apple Search Ads?
Will Apple Search Ads offer an IAP-specific ad unit?
Will there still be some type of trending searches?
Will developers (or App Store users) have any control over the editorial stories, tips and tricks and lists that will populate the enhanced search view?
Will there be any change to the way that App Store editors identify and decide to feature apps? UPDATE: check this page out for submitting ideas to the App Store team. – via Moritz Daan
Will there be any new, badged feature categories that show in App Store browse and App Store search results?
That's all for now, folks! Be sure to bookmark our blog, sign up to our email newsletter for new post updates and reach out if you're interested in working with us.
Incipia is a mobile app development and marketing agency that builds and markets apps for companies, with a specialty in high-quality, stable app development and keyword-based marketing strategy, such as App Store Optimization and Apple Search Ads. For post topics, feedback or business inquiries please contact us, or send an inquiry to hello@incipia.co.
---